Last weekend my fishing buddy from work Jim and I took a few days off to visit the Pere Marquette and Big Manistee River.  As we reached Manistee National Forest I could hear one of the many Tim Allen "Pure Michigan" ads in my head.  I really didn't know what to expect since the Salmon Run was in full swing in Michigan's NW Rivers and this was my first visit to both Rivers.  I knew I had to see the fabled Fly Only stretch of the PM but feared the worst during the Salmon Run.  As we pulled up on a weekday to one of the many access points on the PM it was clear the zoo was in town.  I had never seen anything like it.  Dying to see how the water looked and not having much daylight left after we setup camp, I set aside the more than unfavorable conditions and headed to the river with 2 sticks.  One to egg behind redds for browns and one to swing weighted flies in deep holes.  Jim and I were greeted by two gentlemen who were just finishing their glory shot of a 20 lb salmon and said, "The hole is all yours.  If you got an egg sucking leech it should do the trick."  I smiled and we helped push them off the shallow water.  After 30 minutes of fishing I was already into my first salmon and it was definitely not fresh.  I was actually egging behind a redd looking for a brown when I got my hook-up.  Hooking a salmon on a 5 wt rod with 8 lb tippet was not fun for me or the fish.  Suffice to say, I didn't land the fish.
Jim eventually fished the same water where I got my hook-up and when I returned 2 hours later I helped him land the same fish that I broke off and I even got my egg pattern back!  When I came across Jim he was already 30 minutes into the battle and man was he relived to see me (please note you shouldn't play a fish that long).   After exploring the area we were fishing my mood began to plummet as the Angler count reached 50 in about a 2/3 mile stretch of water.  Even though it was an angling zoo the amount of courtesy the angler's showed one another was impressive.  There could be half as many people on a bigger stretch of water on the Root River back home and "Angler's" would be throwing fists at one another.   So day 2 I came up with a plan B which was much more rewarding.
We camped at Sulak campground and I'll let you in on a little secret…it's a nice campground with 12 sites and it's FREE!!!  Noticing on a map the surrounding area was public land, I knew we could roam the banks and avoid the crowds down river.  We quickly found a fisherman's trail and were glad to finally see the PM the way we envisioned:  Beautiful water, solitude, salmon holding and jumping in deeper pools, and rising browns!!!  I freaked when I realized I forgot my dry flies.  I probably subconsciously thought I'd strictly be egging for Browns, stripping streamers, and swinging flies.  Luckily I had one beetle in my egg/nymph box.  I quickly tied it on and my 2nd cast yielded a PM Brown.  I quickly went 1 of 3 after before losing my beetle on the edge of a log.  Hoping the trout may be eager for an egg or nymph since I was dry fly and terrestrial-less, I quickly rigged up an egg with a nymph dropper but couldn't shift their attention.  I then focused my efforts on a deep quick run where giant Kings were leaping so I tied on a tungsten cone head leech.  After a half dozen casts I was in to the biggest, baddest, nutty King to date.  Running from one log jam to the next, up river then charging me, breaking water and just kicking my ass!!!  This fish was red hot and was a 25 pounder with anger management issues.  After 10 minutes of my tackle being tested I lost the fish due to the hook bending!!!   That was a first for me.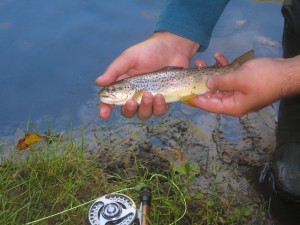 The toughest part about fishing the PM for a 1st timer is that ALL the water looks so good.  There are so many log jams, deep bends, spring seeps, gravel runs with dips and holes scattered everywhere you would be shocked not to find fish in all of these areas, but from what I observed you, should raise your standards on what you consider trouty water to look like and use your eyes to locate fish if possible.  Maybe I was doing something wrong but I couldn't locate or move fish in a lot of good looking water.  I would never go to the fly only water of the PM during the salmon run again but it's nice to know that even during the most intense fishing pressure you can still find a little bit of solitude on the PM.