After a big nap after work Friday I had plans to meet my lady at  her friends place and get a fire going.  I brought a six pack of one of my favorite craft beers Little Sumpin' Wild Ale and a few select bombers for others to enjoy.  Over the next 5 hours I had consumed 5 of my 6 beers around a nice bon fire and decided to call it a night.  My belly gurgled the whole ride home and I thought it might be a good idea to have a midnight steak sandwich since I had steaks which were given to me by my girlfriend's mother which would go bad soon.  She has a knack for giving food in bulk and this whole beef tenderloin roast was no exception.  I've also found a late night base helps ease a night of drinking the following morning.   However, the next morning I was in the hurt box.  I was feeling uncharacteristically hung over for drinking a reasonable amount of  beers in a reasonable amount of time.  For a heavy guy who can do some heavy lifting when it comes to consuming craft beers things weren't quite adding up.  I may have just caught a little flu bug.  Knowing I had a christening Sunday and work all next week, Saturday was the only day I could fish for migratory fish.  As more gurgling occurred in my belly last nights "good idea" pushed it's way towards the top.  I decided to just go with the flow and before I knew it I was bowing to the porcelain god.  As I cleaned myself up I thought it'd be best to just crawl back into bed and admit defeat.  I laid back down in bed and started tossing and turning thinking about the steady rain the Milwaukee had received these past few weeks and how the above average flows was making more of the water switch rod friendly.  I finally rolled out of bed and decided to pound some tums and muster up a 2nd wind.  2 more tums, 2 aspirin, and a McDonald's drive thru later my condition didn't seem to get any better.  I had to pull the car over in Richmond, IL and there went another meal.  After cursing and contemplating turning around for 5 minutes on the side of the road I decided to persevere.  "More time, tums, and water should do the trick eventually," I thought.  75 minutes of nauseous driving later I almost immediately came out of  it after I parked.  This wasn't the first time the joy of fishing has healed my body and mind.  My late arrival had all the traditional runs and gravel spoken for on this beautiful morning but I was happy to see a long deep run which is usually overlooked open and waded into position with the switch.  I tied on a red winged blackbird thinking, "If it's good  enough for Lani Waller, it's good enough for me."  I was hoping to get into some fresh browns with a chance of Steelhead.  Leftover Salmon was not on the list but if I got lucky with a fresh or aggressive one I wouldn't complain.  During my 2nd pass of the pool I got a WHAM mid swing.   After one solid run I was in control of this fish and was so happy when I saw it flash.  I  knew it wasn't left over salmon.  It ended up being a nice chunky Chamber's steelhead.   After getting into my first fish and now having angler's on either side of me I decided to put this fish on ice since my Dad hasn't stopped hassling me for fresh fish and re group.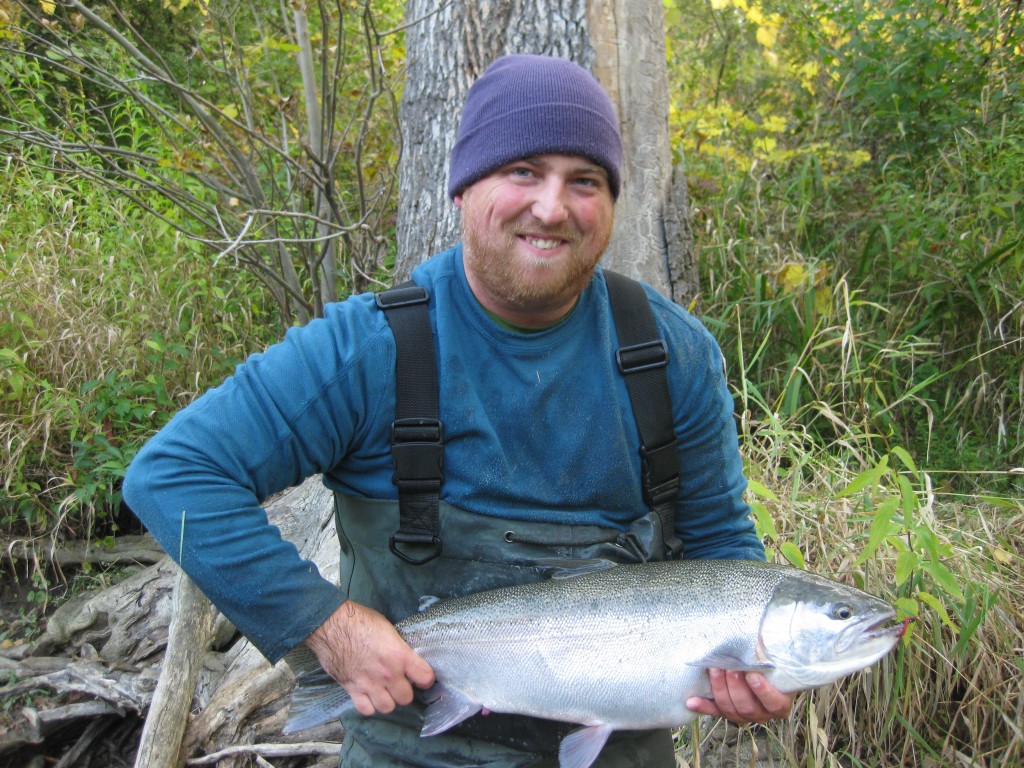 Getting into a fish early is a great thing.  Not only does it give you confidence in what you are doing but it eliminates any sense of urgency and you can just let the day unfold with no regrets.  Jet lag was setting in and I found my belly rumbling for the  3rd time but only this time I knew it would stay down and I needed a pick me up.  Now one  thing any Milwaukee River Angler should know is where to get an amazing cup of joe and a great quick meal and that place is Collectivo Coffee on Humboldt Ave, formerly known as Altera Coffee.  They have some of  the best artisan coffee and quick  breakfast goodies around.  Both quiches caught my eye and I landed on the jalapeno, potato, bacon quiche and it didn't disappoint.
Finding solitude on the water proved nearly impossible after my 2nd breakfast but I eventually found it and got into a 10lb king.  The take was solid but very little line was pulled off my reel.  I eventually bounced back to my original pool and got a smallie stripping an EP Perch.  I switched to my 9ft 8wt and decided to throw a white bunny strip with a chartreuse head and strip it somewhat quick for an aggressive fish and oh boy did I find that fish!!!  This brown's take was just frightening and water splashed everywhere immediately.  I was into a 10 lb brown that was fighting like a Skamania Steelhead.  During the next two minutes there were leaps and runs galore.  I got the "fuck you" during the very last jump as I ducked my fly which flew out it's mouth and ended up in the tree behind me.  I couldn't think of a better note to end on (except landing the damn thing) so I opted to pack it in early due to my health condition beginning  to deteriorate again.  It's rare that I get rewarded when I make a bad decision to hit the water.  Here's to more bad decisions!!!