I spent the last two weekends camping in Wisconsin.  Two weeks ago I camped at Devil's Lake with a few friends and enjoyed the great outdoors.  My friends weren't interested in fishing but I managed to fish the lake one morning and head over to the Wisconsin River the following morning to get my fix.  I managed a few largemouth on the lake and a Pike on the Wisconsin.  We had a fish fry and battered some cheese curds; it was a home run.  My cast iron skillet got a lot of attention from bacon, brats, and taters.  At one point, things got a little too Ron Swanson and we started frying foods from all the bacon fat in the skillet.  I'm lucky to be alive.  Campfire potatoes wrapped in thick cut bacon was one of the items on this hedonistic menu.  At one point, the following  phrase was uttered.  "What else can we fry in bacon fat?"
This last weekend I spent 2 days in Marinette/Menominee with Jim to check out some of the surrounding rivers and streams.  Whilst in Marinette I revisited a little burger/brat gem called Mickey Lu's where the only 3 items cooked on the menu are brats, dogs, and burgers.  They're all cooked in a little brick oven over open flames with the tastiest little burger rolls I've had topped with a fresh pad of butter.  A great local bar called Lollie's serves New Glarus bottles for $2.50 and that comes with unlimited baskets of free popcorn.  You have to love how far your dollar goes up North.  Don't even get me started about the broasted chicken at Paris in Pembine.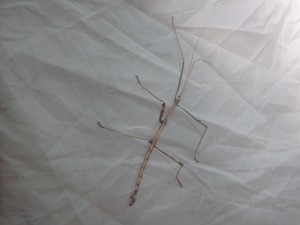 For the first time I got a fishing guide, and it was to check out the North Wood's Smallmouth potential near my Grandpa's old place.  He used to bring me to bridges to fish for Panfish and Smallies, but I've been eager to revisit this area with a fly rod to see what I was missing out on as a kid rigged with only my Snoopy Pole and worms.  I went through Tight Lines out of De Pere (South Green Bay) and couldn't have been more satisfied with our guide Nate.  He was an experienced, down to earth, funny, knowledgeable biology major with a love of the outdoors and sports.  The fishing was slow (I was warned in advance with the option to reschedule), but the experience and knowledge was well worth it.  Plus, it was a gorgeous day on the river with little to no boat traffic.  The River we fished doesn't require stocking and recently produced a 24″ Chernobyl Football!!!